The Bros. Landreth with Special Guest Slow Leaves
Oct 28, 2022
---
---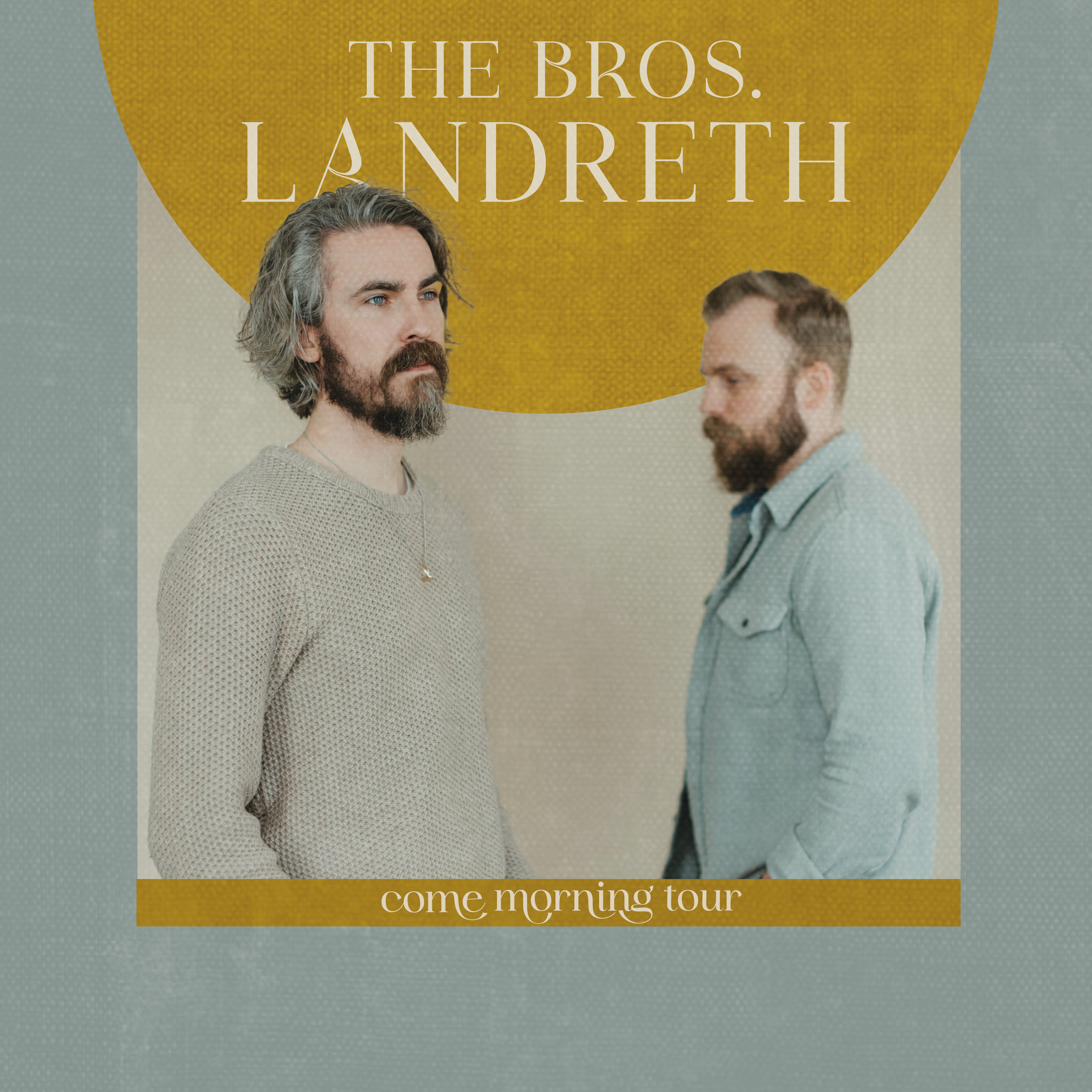 Tickets
The Bros. Landreth with Special Guest Slow Leaves presented by The Artesian
Doors at 7:00 PM, Show 8:00 PM
$22
More Info
---
The Artesian is pleased to present The Bros. Landreth with special guest Slow Leaves for their Artesian debut on October 28th, 2022! Don't miss this virtuosic group of players and singers with a knack for unique songs with a classic sound.
Please be advised that this event is subject to our current COVID-19 policies, which are available at www.artesianon13th.ca/pages/covid-safety. The policies on that page are our most up-to-date policies and are in effect regardless of provincial restrictions.
Show Details:
The Bros. Landreth with Special Guest Slow Leaves presented by The Artesian
Date: Friday, October 28th, 2022
Doors: 7:00 PM
Show: 8:00 PM
Tickets: $22.00 in advance online or at Paper Umbrella - 2724 13th Avenue, $30.00 at the door.
*Advance tickets close at 5:00 PM day-of-show. Additional tickets will be available at the door*
The Artesian is wheelchair accessible, all-ages, and a proud supporter of positive spaces initiatives with a zero-tolerance policy towards hate, harassment, and/or discrimination. We reserve the right to remove any patron creating an unsafe environment. The accessible entrance is available via a lift, Please ask staff for help if necessary.
About The Bros. Landreth:
The Bros. Landreth welcome a new day with Come Morning, an album that marks both a rebirth and refinement of the JUNO-winning band's blend of North American roots music and harmony-heavy soul.
The most immersive, emotive record of the Landreths' career, Come Morning finds brothers Joey and Dave lacing their melody-driven songs with layers of atmospheric synth, organ, and textured guitar. The group's previous albums shone a light on their strength as a live act, capturing the spontaneity and sonic stomp of a band of hard-touring road warriors. If those records unfolded like snapshots of The Bros. Landreth's nighttime shows, then Come Morning sketches a markedly different picture, showcasing the introspection and clarity that comes with a long period of rest.
For Joey and Dave, rest wasn't always an easy thing to find. From their early days attending their father's gigs as babies ("Mom would take us in the bassinet and stick us under the bar tables," says David) to their years logged onstage and on the road, they've spent much of their lives being moved — both physically and emotionally — by music. After pursuing separate careers as sidemen, they launched The Bros. Landreth with 2013's Let It Lie, a debut album that drew upon the shared soundtrack of their childhood — Bonnie Raitt's blues, Little Feat's funky country-rock, Ry Cooder's eclectic instrumentals, Lyle Lovett's twangy traditionalism — for a sound that saluted the past while planting its flag firmly in the present. This was music for the heart and the heartland, with songs that evoked the American South one minute and the windswept prairies of the brothers' Manitoba homeland the next. Fittingly, the siblings spent years crisscrossing Canada and America in support of its release, then toured overseas as their popularity swelled.
Let It Lie won the 2015 JUNO Award for "Roots & Traditional Album Of The Year - Group," earned The Bros. Landreth a nomination for "International Artist of the Year" at the 2016 UK Americana Music Awards, and received praise from heroes like Bonnie Raitt. Building a global audience took a toll on the brothers, though, and Dave temporarily stepped away from the lineup for three years. Joey used that time to launch a solo career, with albums like Whiskey and Hindsight cementing his reputation as a modern-day guitar hero. By the time the siblings reunited for their second album, '87, things had changed.
"When we decided to record a sophomore album for The Bros.," Joey explains, "it was fraught with confusion, resentment, and tension. Dave and I both desperately wanted to get back to making music together, but there was a lot to unpack."
'87 arrived in September 2019 and marked an expansion of the band's sound, but its accompanying tour was cut short by the Covid-19 pandemic. Deflated, Joey and Dave found themselves back home in Winnipeg, riding out the lockdown by funneling their energy into a new batch of recordings. For years, they'd begun each album the same way: by assembling a band and playing together in the studio, allowing their live performances to form the foundation of each song. It was an approach that highlighted the chemistry they'd sharpened on the road, but it didn't always encourage exploration or intentionality. With Come Morning, things were different. Forced to keep a tight circle due to Covid restrictions, Joey and Dave worked together in near-seclusion, pulling long hours in the studio and building songs one instrument at a time. They recorded, layered, stripped away, and layered again. Sounds were sampled, re-sampled, and twisted into something new. Prioritizing moody textures over fiery fretwork, Joey took an understated approach to the guitar, saving his big solos for key moments. He placed an equal emphasis on keyboards, beefing up the recordings with Hammond organ and analog synth. Slowly, steadily, the Landreths pieced together a transportive album built for the heart, the head, and the headphones. This time, the songs weren't the only thing telling a story; the sounds told a story, too.
On "Stay," the two brothers — both of whom became first-time fathers shortly before Come Morning's creation — look for a balance between a touring musician's commitments to the road and a family man's priorities at home. "After the Rain," one of two songs co-written with Jonathan Singleton, finds them optimistically clinging to the silver linings that shine through the darkest of times, while "You Don't Know Me" mourns the loss of a friendship over achingly sparse percussion, soft swells of organ, and gorgeous pedal steel work from guest musician Joe Pisapia. With "Corduroy" and "Come Morning" — two songs about examining emotional damage to repair what's been broken — Joey and Dave even give a nod to their recent history of mending bridges.
"The overarching theme here is hope," says Joey, who shared production duties with longtime collaborator, Murray Pulver. "Many of these songs lean into the tough stuff, like processing emotional trauma and finding strength on the other side. It's a bit of a myth that you're ever done working on that. Dave and I have just begun the journey, and that's why this record represents the rebirth we wanted '87 to be. We're working through the pain, processing it, unpacking our baggage, and beginning to move forward. Last time, we were just walking on a rug that had all kinds of stuff swept under it."
Come Morning is a new dawn for The Bros. Landreth, featuring appearances from Leith Ross (whose 2020 debut was released on the Landreth's record label, Birthday Cake) and drummers Aaron Sterling and Daniel Roy. At the album's core are the Landreths themselves: two born-to-collaborate brothers who sing songs about hard truths and new beginnings, having been brought back together during a time of unprecedented isolation.
About Slow Leaves:
Grant Davidson, known professionally as Slow Leaves, is a Canadian singer, songwriter, and musician. Davidson began playing guitar at age 15, inspired after discovering a Led Zeppelin II cassette tape in his older brother's room. It was a finger-picked guitar however that would eventually form the heart of his songs.

After three shoe-string budget albums under his own name, Davidson debuted as Slow Leaves in 2014 with Beauty Is So Common, followed by Enough About Me in 2017. In 2020 he released the strikingly vulnerable Shelf Life (Birthday Cake) which represented the culmination of a distinctive poetic voice exploring recurring themes of romantic memory, artistic ambition, and dreams left unfulfilled.

On his most recent release, 2021's Holiday (Birthday Cake), Davidson sought reprieve from pointed self-analysis, this time observing life through a decidedly more abstract lens. "I started recording music simply for fun," he explains, "trying not to overthink, avoiding the impulse to turn every song into a personal manifesto. I needed a break from myself".

Davidson's voice is fragile and assured. His music could exist as comfortably in the '70s as it does in today's age of curated images and hollow soundbites, when vulnerability can be seen as defiance and sincerity as radical.
---