International Women's Day Concert
---
---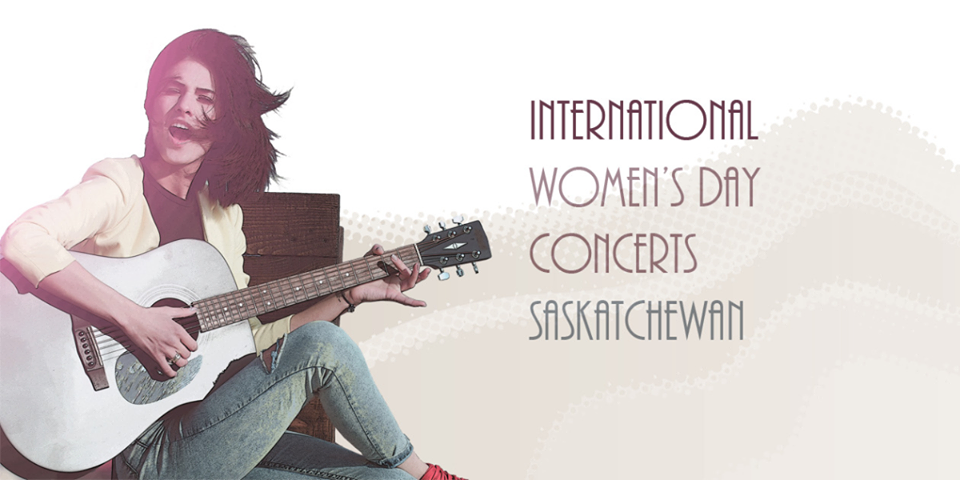 SaskMusic is pleased to announce that we will be presenting concert events in Saskatchewan in celebration of International Women's Day, and with the generous support of The Foundation Assisting Canadian Talent on Recordings (The Foundation Assisting Canadian Talent On Recordings (FACTOR).

Multi-artist, multi-genre concerts are taking place on Saturday, March 7 in Regina, Saskatoon, Lemberg, Yorkton, Estevan and Prince Albert. An additional concert will happen on Sunday, March 8 in Forget.
The Artesian is wheelchair accessible and a proud supporter of positive spaces initiatives with a zero-tolerance policy towards hate, harassment, and/or discrimination. They reserve the right to remove any patron creating an unsafe environment. The accessible entrance is available via a lift, Please ask staff for help if necessary.
Ticket proceeds from this event will go to the Regina Sexual Assault Center.
For more info, please contact SaskMusic or call toll-free in Sask, 1-800-347-0676.
Eileen Laverty
Eileen Laverty charms all ages with her soulful voice and heartfelt lyrics. Her unique brand of folk music has been featured on television and film, and she has toured with a diverse range of acclaimed artists, including Kenny Rogers, John McDermott, Tom Cochrane, and the Saskatoon Symphony Orchestra. Eileen has released three CDs and several singles to date. She is currently working on new music for release in 2020.
Shantaia
Shantaia is a country singer/songwriter. With her powerful vocals, Shantaia's voice, much like her name, is unforgettable. Shantaia has opened for names such as Kane Brown, Chris Lane, Emerson Drive, Charlie Major, Ryan Hurd and Cold Creek County. The 2019 Sask Country Music Association's Emerging Artist of the Year released a new single January 3/2020 "I Wish You Would" which has over 140,000 streams on Spotify and is available on all social media platforms. Her debut EP is set for release in April 2020.
Last Birds
Last Birds is a Folk-Americana duo consisting of the husband/wife songwriting team, Lindsay Arnold and Mike Davis. Last Birds focuses on close-knit vocal harmonies and interwoven acoustic guitars. Keeping instrumentation minimal, their songs harken to the early days of country folk music whilst exploring dilemmas of the modern world.
Bex
Bex's style of mixing hip hop influenced production and soulful R&B vocals sets a lush vibe that captivates. Bex has a penchant for using her lyricism to explore deep thoughts and feelings. Her self produced debut EP 'Arrhythmia', which was released on Valentine's Day 2017, was the beginning of an exploration into self-discovery utilizing a never-ending passion for music. She released her second EP 'This Isn't Me' on Halloween 2019.
Annora
Annora's powerhouse vocals capture the audience's attention. Blending genres with her training in jazz and classical, Annora is a storyteller who shares honest tales inspired by her adventures and missteps along the way. She's released several singles and is working on her first full-length album to be released in summer 2020. Annora's performances leave it all on display, mingling her diverse talents together to create a unique folk sound with a country and jazz flare.
---