Concert Final Nouvelle Scene 2018
Jul 18, 2018
---
---
50.4453626;-104.61931720000001;2627 13th Avenue, Regina, SK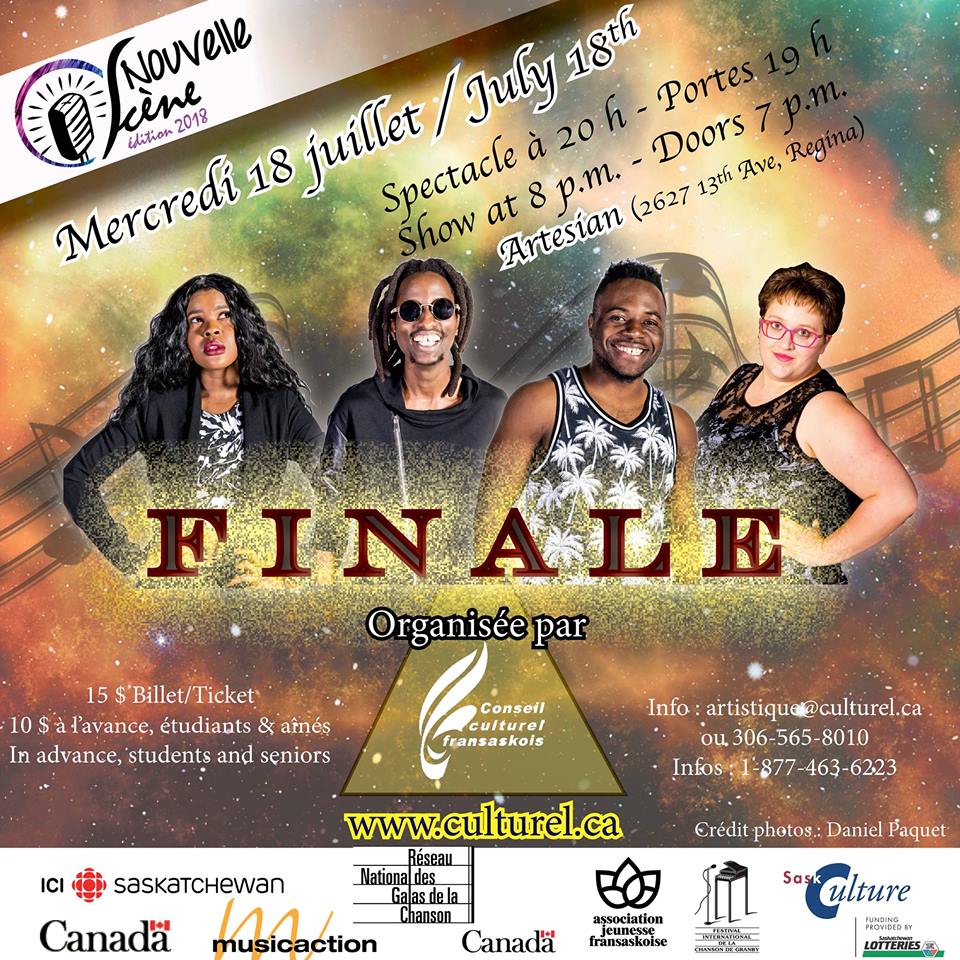 Évènement musical amusant avec de la bonne musique, ouvert à tous ceux qui veulent se détendre et suivre un bon spectacle !!
Fun musical event with great music, open to anyone wanting to relax for the night and enjoy a good show !!
Ne manquez pas les prestations de nos excellents participants :
Medjinah Wallis
Kaya Free
Mugisho
Frédérique
*** Portes ouvertes à 19h / Doors open at 7pm ***
- 15$ Billets/Tickets
- 10$ à l'avance, étudiants et aînés /in advance, students and seniors
Réservez par courriel ou par telephone avant le 16 juillet 2018 / Reserve by email or phone before July 16th, 2018 ( / 306-565-8010)
#NS2018
Nouvelle scène est un évènement tremplin permettant aux artistes de la chanson d'expression française de bénéficier d'une plate-forme stimulante pour leur développement professionnel. L'évènement permet aux participants d'assister à des ateliers, des formations et de s'expérimenter sur scène.
Depuis 1990, cet évènement a mis sur scène près de 90 artistes fransaskois. Qu'ils aient remporté le prix ou non, ils en sont tous sortis gagnants, ayant bénéficié d'une expérience de la scène, de formations professionnelles et poursuivant leurs rêves.
Les candidats sélectionnés pour participer à Nouvelle scène sont ensuite jugés par un panel de professionnels et le public lors du concert final.
---